Mike Steen
as Sergeant Miller / The Police Sergeant / The Sergeant
Episodes
3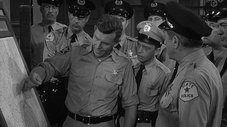 Andy and his bumbling deputy, Barney Fife, offer to help track down an escaped convict, but the captain of the state police scoffs at the small-town sheriff's help.
Read More
A notorious, nationally known con man dubbed "Gentleman Dan" becomes a hero of epic proportions to Aunt Bee, Opie and Barney when he is held for two days in the Mayberry jail.
Read More
Barney's reputation as a deputy soars when he inadvertently helps capture Eddie Brooke, an escaped convict. But Brooke vows to escape again and head straight back to Mayberry to exact his revenge.
Read More