Episodes
3
Helen's niece comes for a visit and proves to be both very pretty and very talented in athletics. Trouble is that she beats Opie in almost every sport there is. She actually really likes Opie as a BOY and needs her Aunt Helen to help her to get Opie to like her.
Read More
Andy umpires the baseball game for Mayberry but when he calls the final strike for the opposing team, everyone in town is angry at him until Howard Sprague steps up and teaches everyone about being fair to Andy.
Read More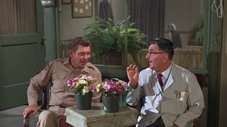 Aunt Bee is totally excited about her rose that she has been growing for over a year for the annual flower show. While Opie and Arnold are playing, however,they accidently destroy it.
Read More