Episodes
5
Andy invites Howard to join ""The Regal Order of the Door to Good Fellowship"" lodge. Howard's mother doesn't like the idea of Howard being around the other men, so she concocts a scheme whereby Howard will be denied membership. It's all a big misunderstanding, and Howard eventually is allowed to join the lodge.
Read More
The Darling Family comes back, suddenly rich. They want their sons to marry well, and decide they should pick from the women of Mayberry.
Read More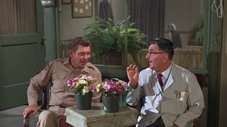 Aunt Bee is totally excited about her rose that she has been growing for over a year for the annual flower show. While Opie and Arnold are playing, however,they accidently destroy it.
Read More
Andy is captured by two escaped convincts and Otis and Howard ride to his rescue.
Read More
Floyd gets a rent hike after Howard buys the barbershop.
Read More