Episodes
4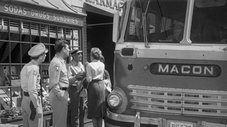 When Barney's awkward cousin Virgil arrives from New Jersey, Barney attempts to put him to work -- but Virgil's earnest attempts to lend a helping hand create havoc at every turn.
Read More
Aunt Bee loses a piece of jewelry then turns it into the insurance office to collect a claim on it. Then she eventually finds the jewelry. She spends the money that the insurance gave her.
Read More
Opie does some investigative reporting for an essay on the Battle of Mayberry but finds getting at the truth is harder than he imgagined.
Read More
Goober grows tired of being the most ignorant one in town; he goes away fishing and accidentally grows a beard. The beard makes him believe he is smart--and he becomes an unbearable bore to everyone in Mayberry.
Read More