Episodes
7
After Dolly, a retired milk-wagon horse refuses to eat while her owner is out of town; Opie becomes really worried that something is wrong with her. Unsure of what to do, Opie turns to Goober, Howard and Andy for help in getting the horse to eat. It is only after Mr. Simpson returns home from his vacation that he and Opie discover that Dolly refuses to eat because she misses going to work every day.
Read More
Howard gets an opportunity to appear on television and demonstrate his comedic talents. He's a great hit --except with the people of Mayberry, who are upset that he mentioned them in his jokes.
Read More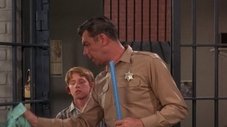 Opie has a hard time finishing one of his homework assignments.
Read More
Opie disobeys Andy and tape-records a bank robber's confession.
Read More
A visiting professor is attracted to Aunt Bee because she resembles his deceased wife.
Read More
Andy opens a coin laundry to save money for Opie's college education.
Read More
Goober buys the gas station with financial backing from Andy and Emmett.
Read More