Episodes
4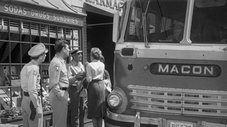 When Barney's awkward cousin Virgil arrives from New Jersey, Barney attempts to put him to work -- but Virgil's earnest attempts to lend a helping hand create havoc at every turn.
Read More
Barney believes his job is on the line when he accidentally gives the governor's car a parking ticket. When he learns the governor is coming to town to see him about it, his nervousness causes him to drink cup after cup of water from the water cooler, the very same cooler Otis has spiked with alcohol.
Read More
All of Mayberry turns out to welcome a truck carrying gold to Fort Knox as it passes through town. When Barney sneaks a closer look at the loot, he sees that there may not be as much to celebrate as everyone thought.
Read More