Episodes
4
Ed Sawyer, a mysterious stranger, arrives in Mayberry and disrupts the lives of the townspeople because he appears to know everyone's name, intimate details about their lives, and other startling facts about them.
Read More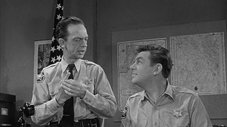 Aunt Bee, accused by Andy of being a hopeless gossip, sets out to prove that the men of Mayberry are even bigger rumormongers than the women.
Read More
Mayberry's famed hometown musician -- Jim Lindsey (James Best) -- returns for a visit in his flashy convertible and fancy clothes. But despite all the trappings and signs of showbiz success, Andy senses that all is not well in the life of the popular performer.
Read More
Will the town coffers run out of cash? It appears that way when Mayberry resident Frank Myers is stunned to discover that the township apparently owes him close to $350,000!
Read More