Episodes
3
Mayberry's local "Scrooge," storeowner Ben Weaver, manages to have harmless bootlegger Sam Muggins thrown into jail on Christmas -- but the Mayberry folks manage to celebrate Christmas with Sam in a most unusual way.
Read More
Andy, faced with the unpleasant task of serving an eviction notice on a family who has fallen on hard times, tries desperately to come up with a way for the tenants to keep their home.
Read More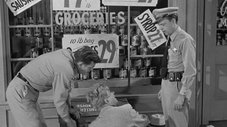 Weaver's Department Store in Mayberry has some new competition -- in the form of Bert Miller, a traveling salesman who sets up shop in the town with a little help from Andy.
Read More