Episodes
4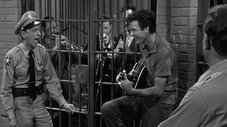 A gifted guitar player (James Best) who has self-doubts about his musical talent gets a chance at stardom -- with a little push from Andy.
Read More
Andy gets a letter from a criminal he had wounded years before and learns the man is coming to Mayberry to see him. Barney becomes convinced the man wants revenge and enlists Gomer and Otis to secretly protect Andy, which ends up wreaking more havoc than any criminal ever could.
Read More
The Darling clan is back and this time need Andy's help to wed their daughter Charlene to Dud Walsh before crazy old Ernest T. Bass makes good on his threats to kidnap her and take her for his own. Andy sets Barney up as a decoy bride while the real wedding takes place elsewhere. The plan works, until Ernest kidnaps Barney and decides he's just as good a bride as Charlene.
Read More
Emmett's brother in law wants him to leave the fix it shop and join him in selling life insurance.
Read More