Overview
Media
Fandom
Share
Episodes
4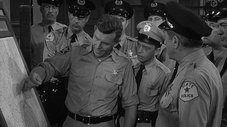 Andy and his bumbling deputy, Barney Fife, offer to help track down an escaped convict, but the captain of the state police scoffs at the small-town sheriff's help.
Read More
All of Mayberry turns out to welcome a truck carrying gold to Fort Knox as it passes through town. When Barney sneaks a closer look at the loot, he sees that there may not be as much to celebrate as everyone thought.
Read More
Andy opens a coin laundry to save money for Opie's college education.
Read More