Episodes
3
The "unofficial" pilot, first broadcast in season 7, episode 20 of "Make Room for Daddy".
Danny runs a stop sign at a "future crossroad" traveling through the small town of Mayberry. Danny being a big star, Andy sees this as an opportunity to raise extra money to build the crossroad. Danny is furious and would rather go to jail.
Read More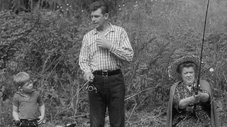 Sheriff Andy Taylor and his young son Opie are in need of a new housekeeper. Andy's Aunt Bee looks like the perfect candidate and moves in, but her presence causes friction with Opie.
Read More
Warren, enforcing a gambling ordinance to the letter of the law, arrests Aunt Bee and her women friends (meaning, most of Mayberry) for running a Bingo game. Everyone's furious at Warren, particularly Andy, who becomes even more frustrated when Warren resists pleas to drop the charges (in fact, the deputy really digs into his position). Aunt Bee and her friends soon demand a trial. Later, the men of Mayberry (with their children in tow, some of them crying) bother Andy and Opie at home when Warren still won't drop the charges. Eventually, the charges are dropped and Aunt Bee's good name is cleared once more.
Read More