Episodes
5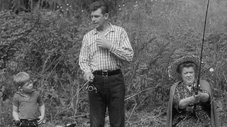 Sheriff Andy Taylor and his young son Opie are in need of a new housekeeper. Andy's Aunt Bee looks like the perfect candidate and moves in, but her presence causes friction with Opie.
Read More
It's a battle of the sexes when Ellie Walker decides to become the very first woman to run for a seat on the Mayberry city council -- and the town's horrified menfolk decide to sabotage her newfound political career.
Read More
The Mayberry town council wants to end the annual Founder's Day celebration with a beauty contest, with Andy chosen to pick the winner. The result is pandemonium as candidates of all shapes and sizes descend on the hapless "judge."
Read More
Aunt Bee decides to buy 150 pounds of beef at a discount from a new butcher in town. She stores in in her "discount" freezer, which immediately breaks down. With her beef about to go bad, she learns that the only one in town with a freezer bug enough to save her beef is her original butcher.
Read More
Barney uncovers an old assault case between Floyd the barber and his friend Charlie that never went to trial and ends up re-igniting an old feud that spreads to the whole town. Now Andy has to find a way to resolve the dispute and keep everyone out of court.
Read More