Overview
John Safran vs God is an eight-part television documentary series by John Safran which was broadcast on SBS TV of Australia in 2004. It has been described in a media release as "John Safran's most audacious project yet". It had a much more serious tone than Safran's previous work Music Jamboree. The show was released by Ghost of Your Ex-Boyfriend Productions and SBS Independent, was co-written with Mark O'Toole, directed by Craig Melville, and produced by Selin Yaman. The series won the 2005 Australian Film Institute Award for Best Comedy Series.
The show's opening theme is Hate Priest by the band Mozart on Crack. The opening sequence features John in a black suit breaking out of a patch of black scorched earth with his bare hands during a thunderstorm. The words "when the thousand years are over Satan will be released from his prison" are spoken in a low pseudo-ominous voice.
Series Cast
We don't have any cast added to this TV Show. You can help by adding some!
Last Season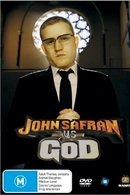 2004 | 8 Episodes
In his most ludicrously ambitious project yet, world-famous media hooligan John Safran scours the world in search of God... AND FINDS HIM.... Or, at least, a lot of folk who believe they have.
Keywords
No keywords have been added.
Content Score
We're so close, yet so far.