Overview
The New Adventures of Batman is an animated series produced by Filmation in 1977 featuring the DC Comics superheroes Batman and Robin, and Batgirl. The current distributor is Warner Bros. Television due to parent company Warner Bros's ownership of DC Comics, which publishes the Batman titles. It is a continuation of the 1960s Batman TV series which had been canceled eight years earlier.
The New Adventures of Batman originally premiered February 10, 1977 on CBS. The episodes from this series were later aired along with other Filmation shows—such as Tarzan, Lord of the Jungle —as part of: The Batman/Tarzan Adventure Hour, Tarzan and the Super 7, and Batman and the Super 7.
In The New Adventures of Batman, the "Dynamic Duo" fights crime in Gotham City, encountering the classic Batman rogues gallery as well as some original villains. Complicating matters is Bat-Mite, a well-meaning imp from another dimension called Ergo, who considers himself Batman's biggest fan. As a result, he wears a variant of Batman's costume and attempts to help him, only to often create more problems. Missing is Alfred, the faithful butler of Batman's alter ego Bruce Wayne; also notable in this series are the inverted colors of the "R" on Robin's costume.
Featured Crew
Creator
Last Season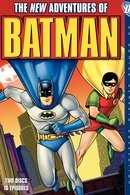 1977 | 16 Episodes
Season 1 of The New Adventures of Batman premiered on February 10, 1977.
Facts
Status Ended
Network
Certification
Meaning

Suitable for general audiences. Programming suitable for the entire family with mild violence, and mild profanity and/or censored language.
Type Scripted
Original Language English
Runtime 30m
Homepage -
Content Score
Almost there...