Overview
When strange anomalies start to appear all over England, Professor Cutter and his team must track down and capture all sorts of dangerous prehistoric creatures from Earth's distant past and near future.
Featured Crew
Creator

Creator
Last Season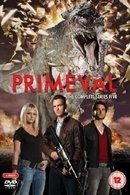 2011 | 6 Episodes
Matt's secret mission to find the ARC member that will destroy the future continues, as does Philip's New Dawn project for the Anomalies. After Abby learns of Matt's mission, the latter recruits her into it, while Connor instead joins Philip in the New Dawn project. Connor and Abby's opposing allegiances in turn strains their relationship more and more. Matt and Abby's fears that New Dawn is what will destroy the future are soon confirmed, and after Connor realises his error, he and the rest of the ARC team join Matt and Abby against Philip as the latter activates New Dawn. Although Philip successfully activates New Dawn, the team manage to stop New Dawn and save the future. However, Matt then sees a double of him at the ARC which gives him a warning.
Facts
Status Ended
Network
Certification
Meaning

Only kids the age of 12 or older can watch.
Type Scripted
Original Language English
Runtime 45m, 43m
Content Score
Yes! Looking good!