Overview
A sinister corporation loses control of a house cat infected with a genetically-engineered virus. The death-toll rises during the mutant feline's rampage, and eventually, it finds its way on board a ship of a criminal king-pin.
Featured Crew
Director, Writer
Recommendations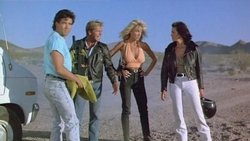 Guns 4.4
Find out where to watch this on:
Facts
Status Released
Release Information
August 24, 1988


PG-13, Theatrical
Original Language English
Runtime 1h 30m
Budget -
Revenue -
Homepage -
Content Score
Lookin' Good!