Keyword bigamy Movies
Fort Saganne 7.4
In 1911, a willful and determined man from peasant stock named Charles Saganne enlists in the military and is assigned to the Sahara Desert under the aristocratic Colonel Dubreuilh.
The Creep Behind the Camera 8.0
An exploration of the making of b-movie sci-fi cult classic "The Creeping Terror" and its con-man director Art "A.J." Nelson/Vic Savage.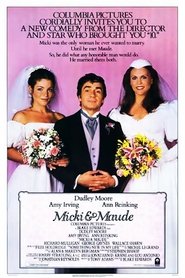 Micki & Maude 6.5
TV reporter Rob Salinger is married to Micki, but because she's always busy working, they hardly ever spend time together. One night at which he got stood up by Micki again, Rob meets cellist Maude and they soon…
The Remarkable Mr. Pennypacker 0.0
In early 1900s' Pennsylvania, Mr. Pennypacker has two company offices and two families with a combined total of 17 children. With an office in Harrisburg and an office in Philadelphia, he has successfully kept two…
In Nebraska, in pioneer days, a woman who knows she is going to die asks a prostitute to replace her with her husband and four children in order to make it possible for them to keep their family farm.
The Bigamist 7.5
A woman discovers her husband has another family in another city.
The Beggar Bride 3.8
How far will she go for money? "Don't you see, Billy, people like them owe people like us." Young, beautiful and living on the breadline with a feckless husband and a sickly child, Angela Harper decides to take…
Peach-O-Reno 0.0
After a quarrell at their 25th wedding aniversery, Joe and Aggie Bruno decide to divorce each other, and both leave for Reno. So do their daughters Prudence and Pansy, but they want to get their parents back to…
A married woman is reunited with her childhood sweetheart, and marries him too, forcing her to live two lives at once.
Currently on page: 1 of 1 (11 results)