Humanity finds a mysterious object buried beneath the lunar surface and sets off to find its origins with the help of HAL 9000, the world's most advanced super computer.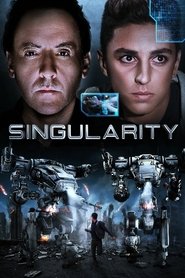 Singularity 3.8
In 2020, Elias van Dorne (John Cusack), CEO of VA Industries, the world's largest robotics company, introduces his most powerful invention--Kronos, a super computer designed to end all wars. When Kronos goes online…
The human city of Zion defends itself against the massive invasion of the machines as Neo fights to end the war at another front while also opposing the rogue Agent Smith.
Transcendence 5.9
Two leading computer scientists work toward their goal of Technological Singularity, as a radical anti-technology organization fights to prevent them from creating a world where computers can transcend the abilities…
Superman III 5.3
Aiming to defeat the Man of Steel, wealthy executive Ross Webster hires bumbling but brilliant Gus Gorman to develop synthetic kryptonite, which yields some unexpected psychological effects in the third installment…
Universal Soldier: The Return 4.2
Luc Deveraux, the heroic former Universal Soldier, is about to be thrown into action once again. When Seth (Michael Jai White), the supercomputer controlled ultra-warrior, decides to take revenge and destroy its…
Colossus: The Forbin Project 7.1
Forbin is the designer of an incredibly sophisticated computer that will run all of America's nuclear defenses. Shortly after being turned on, it detects the existence of Guardian, the Soviet counterpart, previously…
Black Friday 0.0
From director Crescentia Volz and producer Jayme Schmitt comes a horror film of which the likes haven't been seen for 60 years. During the weekend of Thanksgiving, aliens put their plans to take over the Earth in…
Currently on page: 1 of 1 (12 results)