Keyword choir Movies
The Chorus 7.5
Set in 1940's France, a new teacher at a school for disruptive boys gives hope and inspiration.
August Rush 7.0
A drama with fairy tale elements, where an orphaned musical prodigy uses his gift as a clue to finding his birth parents.
Tramontane 0.0
Rabih, a young blind man, lives in a small village in Lebanon. He sings in a choir and edits Braille documents for an income. His life unravels when he tries to apply for a passport and discovers that his identification…
A musical romantic tragedy about a famous composer who moves back to his small hometown after having had heart troubles. His search for a simple everyday life leads him into teaching the local church choir which…
Heaven on Earth 5.3
A life-affirming story about how the power of love, music and dance can change people. This is a standalone sequel to "As it is in Heaven" by director Kay Pollak.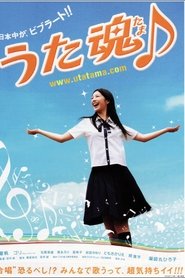 Sing Salmon Sing 3.8
High school student Kasumi Ogino (Kaho) is a member of the school choir and after years of praise for her singing voice thinks she is the absolute bee's knees. When the object of her desires, classmate and photographer…
Young @ Heart 7.4
Documents the true story of the final weeks of rehearsal for the Young at Heart Chorus in Northampton, MA and many of whom must overcome health adversities to participate. Their music going against the stereotype…
Imba Means Sing 0.0
A character-driven heartfelt story of resilience and the impact of education. The film follows Angel, Moses and Nina from the slums of Kampala, Uganda through a world tour with the Grammy-nominated African Children…
Kevin Davidson & the Voices: Overflow 0.0
Award-winning gospel act Kevin Davidson and the Voices deliver an uplifting evening of music in this memorable full-choir concert, recorded live in Memphis, Tenn. An inspirational set list includes the songs "This…
How the Oz tin woodsman lost his limbs and his lover, and how he tried to get his life back.
Gwaed ar y Sêr 0.0
Shadrach Smith and his school choir do their best to ensure that the local celebrities hired to appear at a concert in a village hall don't make it to the stage and slaughter anyone they believe is getting in their…
George Jessel and His Russian Art Choir 0.0
Veteran vaudevillian regales the audience with highlights from his comedy travel monologue and introduces "His Modern Art Choir," A Russian group he met while traveling in the Soviet Union who sing a traditional…
Currently on page: 1 of 1 (13 results)