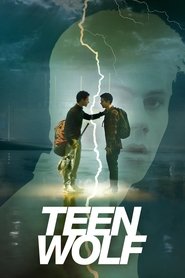 Shadowhunters 6.1
When Clary Fray's mother has disappeared, Clary joins a band of Shadowhunters; demon killing hunters, and gets caught up in a plan to save the world.
After her mother dies in a fire, Cassie Blake moves in with her grandmother in the beautiful small town of Chance Harbor, Washington. As Cassie gets to know her high school classmates, including sweet-natured Diana…
H2O: Just Add Water revolves around three teenage girls facing everyday teen problems with an added twist: they cope with the burden of growing a giant fin and transforming into mermaids whenever they come in contact…
Point Pleasant 7.5
A series of supernatural events begins in a small coastal New Jersey town after the arrival of a mysterious teenage girl, who apparently has the ability to influence the people and events around her.
Big Wolf on Campus is a Canadian television series created by Peter A. Knight and Christopher Briggs that ran from 1999 to 2002. In the lighthearted horror/teen drama tradition of Sabrina, The Teenage Witch, it…
The Nine Lives of Chloe King 7.0
Chloe King is looking forward to celebrating her birthday with her friends and single mother, just like every other year... that is until she starts developing heightened abilities and discovers she's being pursued…
Tower Prep 0.0
Ian Archer wakes up one morning to find himself at a mysterious academy for teens with special abilities. Unable to find answers to his questions from the school's faculty and cut off from any kind of outside contact…
Guinevere Jones 0.0
Teenage Gwen Jones is the modern-day reincarnation of the legendary Queen Guinevere. Her birthright and destiny is to use magic to save the world from evil, but try telling that to a 14 year-old who's dealing with…
Currently on page: 1 of 1 (15 results)