The Black Cat 5.9
American honeymooners in Hungary are trapped in the home of a Satan-worshiping priest when the bride is taken there for medical help following a road accident.
Akemi is a dragon tattooed leader of the Tachibana Yakuza clan. In a duel with a rival gang Akemi slashes the eyes of an opponent and a black cat appears, to lap the blood from the gushing wound. The cat along with…
British remake of the classic comedy thriller play. A group of potential heirs gather in a forbidding old house to learn which of them will inherit a fortune. Later, they learn that a flesh-rending maniac is loose.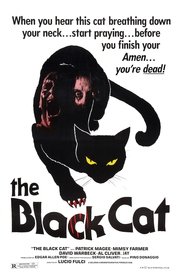 The Black Cat 6.2
An American photographer (Mimsy Farmer) and a Scotland Yard inspector (David Warbeck) suspect a man's (Patrick Magee) cat of murder.
Story about a man haunted by the spirit of his dead wife and her effect on his second marriage.
Bad Luck Blackie 5.0
A kitten who is being tormented by a bulldog finds a savior in a black cat (from the "Black Cat Bad Luck Company") who merely has to cross the dog's path for something very unlucky to happen to the bully.
The Black Cat 0.0
A mentally unbalanced man is obsessed with the idea that a black cat is possessed. He tortures and kills it. Later, he comes to believe that the cat has returned from the dead to kill him.
The Black Cat 6.0
Greedy heirs wait in a mansion for a rich cat lover to die, only to learn her cats come first.
Currently on page: 1 of 1 (12 results)