Street Fighter 4.1
Col. Guile and various other martial arts heroes fight against the tyranny of Dictator M. Bison and his cohorts.
Street Fighter II: The Animated Movie 6.4
Bison, the ruthless leader of the international terrorist organization Shadowlaw, has been desperately searching for the greatest fighter on the planet for years. He finds it in Ryu, a young wanderer who never stays…
Chun-Li, Guile and Cammy must track down Juri, a new fighter who seeks to kill all other world warriors in a quest for ultimate power.
Future Cops 5.7
In the year 2043, an evil crime lord (The General/M. Bison) is trying to take over the world. Only one government official stands in his way, and plans to send him to prison, so The General and his minions Kent…
Street Fighter: The Legend of Chun-Li 4.1
When a teenager, Chun-Li witnesses the kidnapping of her father by wealthy crime lord M. Bison. When she grows up, she goes into a quest for vengeance and becomes the famous crime-fighter of the Street Fighter universe.
Terry is a tough mercenary and a master of martial arts. When an important business magnate dies, leaving billions to his daughter, the Mafia and Yakuza try to hire Terry to kidnap the daughter. When they refuse…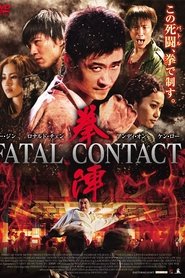 Fatal Contact 5.2
A young man learns the fighting techniques of Sanda from a coach. The two become best friends as the young man prepares to enter an underground tournament, competing against some of the top fighters of the world.
Street Fighter Alpha: Generations 4.8
When Ryu returns to pay homage to his deceased mentor, Gouken, he is tormented by disturbing memories of his master's killer (Gouki). In a quest to become a true martial arts master, he sets out to hone his street…
Street Fighter Alpha - The Movie 6.1
Increasingly disturbed by the dark energies building within him, Ryu is confronted by Shun, a boy claiming to be the brother he never knew. But before Ryu can consider whether Shun's timely appearance might be more…
Yue Feng (Yue Song) is a young thug with exceptional streetfighting abilities. He will stop at nothing to defeat all challengers - until, in an tragic accident, he kills a fellow competitor and is sent to prison.…
For one of the longest-running game franchises in history, Street Fighter creators Capcom needed something exceedingly special to accompany the release of their 25th anniversary edition of the game. AREA 5 produced…
More Than A Game 0.0
We will be following the progress of US Street Fighter champion Justin Wong and UK champion Ryan Hart as they spend their final month of preperation for the games, travelling to and participating in the tournament.…
The East Side Kids discover that one of their own, Danny, is torn between staying and school and becoming a boxer, and is getting mixed up with gangsters.
Currently on page: 1 of 1 (15 results)