Overview
Poor Raja opens a fast foot restaurant right opposite a five star hotel run by its owner Singhania, earning his wrath. The wealthy hotel owner uses all his influence to remove Raja, but in vain. Things get worse for the wealthy man, when his daughter Kiran wants to marry the poor hotelier. The wealthy man refuses, leading to a confrontation and a condition - which Raja fulfills, he becomes rich virtually overnight, and proposes for the hand of Kiran. The wealthy hotelier reluctantly accepts him as his son-in-law, only to have Kiran elope with a man named Rahul.
Tagline
No tagline has been added.
Crew
Show All
Cast
Show All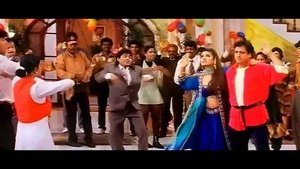 Genres
Production Companies
There are no English reviews for this movie. Would you like to write one?
Similar Movies
Similar items on TMDb are built by looking for other objects that have the same plot keywords and genres. If there aren't any listed, try adding some. As a general guideline when adding these keywords, think of things that help describe the movie. Key plot points (no spoilers though!), general themes and moods are especially useful.