Overview
It's time for Jonsson to return to his old regiment to rehearse what he learned during conscription a few years ago. He meets his old friends, platoon leader Larsson and the music loving captain 'Beethoven'. Jonsson and his comrades doesn't take it very serious - but they have a jolly good time. A female journalist follows the exercise to write an article, and gets interested in him. Plot by Mattias Thuresson.
Tagline
No tagline has been added.
Crew
Show All
Cast
Show All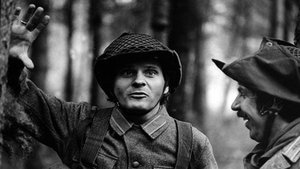 Genres
Production Companies
There are no English reviews for this movie. Would you like to write one?
Similar Movies
Similar items on TMDb are built by looking for other objects that have the same plot keywords and genres. If there aren't any listed, try adding some. As a general guideline when adding these keywords, think of things that help describe the movie. Key plot points (no spoilers though!), general themes and moods are especially useful.